Quinoa as Breakfast Cereal
Mary Brum has a vast knowledge of foods that are high in nutrients and ranks Quinoa as one of the top on her list of healthful foods. She is very impressed with the goodness of this grain. She has shared some of her recipes for a breakfast cereal using Quinoa as well as suggestions on making a salad with this grain. Mary suggested checking this web site for more Nutition Information on Quinoa.
Here is Mary's recipe
Ingredients
1 Cup Quinoa Grain
2 Cups Filtered Water
Pinch of Celtic Sea Salt or Himalayan Salt (optional)
When it is done, add:
Honey or Agave Nectar or sweetener of choice
Ground Cinnamon or Cardamom
Walnuts/Pistachio - optional
Method
Bring to a boil and lower the heat, allow to cook slowly to absorb the liquid for 15 minutes or a little longer.
Fluff up with a fork. Serve with a little honey or Agave Nectar and ground cinnamon and perhaps some walnuts, etc.
A fantastic vegan treat and nutritious too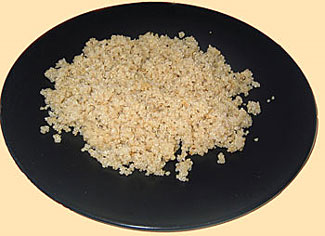 Cooked Quinoa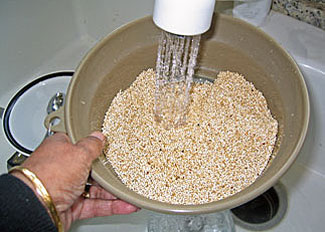 Quinoa Being Washed under Running Water in fine Sieve
This same cooked Quinoa may also be used to make a Mexican salad with Black Beans/cubed tomatoes/cilantro/chopped green onions. Season with lime juice to taste/salt/pinch of cayenne.
For other recipes on Quinoa, check
Quinoa Basic
Cauliflower & Quinoa Soup
For other delicious recipes by Mary, please visit: Cheddar Onion Chive Scones
South African Melktert
If you have any questions or would like to add a recipe of your own, email me, Nirmala, at


I will be happy to help with inquiries. The site will be regularly updated with tasty recipes, hints and tips. You will find my contact information at Contact