This is my version of Latkes, a kind of potato pancake.
The first time that I ate Latkes was at a fair in Cape Town that had food vendors from various cultures. It was a new dish for me and I really liked it a lot. I experimented with the recipe and made my version of it quite successfully. However I was not happy about having to use a lot of oil to fry the latkes.
I have now forumulated a vegan version that uses minimal oil and will be suitable for anyone watching their weight and cholesterol leves. It is also made without eggs and dairy products.
Serve it for breakfast in the weekend or as a meal at any time of the day. It can also be a nice side dish. Accompanied with salads and Tofu Scrambled Eggs it makes a healthy and satisfying meal.
Here is the recipe.
Ingredients
1 medium sized potatoes
1 carrot
½ zuchinni
¼ of a large onions
1 tsp. crushed ginger
½ tsp. ground garlic
½ tsp. freshly ground black pepper
1 tsp. salt or to taste
4 tblsps. cornstarch/maizena
Approximately 2-4 tablespoons canola oil-to be used on pan
Method
Peel potato, rinse onion & zuchinni, rinse and scrape carrot.
Grate all these 4 ingredients. I used a food processor
Place contents into a dish and add the rest of the ingredients and mix well. (not oil)
Dip a spatula into oil and spread this on a non stick pan. Heat pan on medium-high setting.
Work quickly as the grated potato tends to become watery
Once the cornstarch is added, take amounts of mix with your hand and place on oiled pan. Using the spatula, direct the oil, (which tends to float in a non stick pan), towards the little pancakes. Flatten, as this will ensure even cooking since the amount of oil that is used is so little.
While it is cooking take teaspoons of oil and spread on the uncooked side of the pancakes facing you
Using a spatula, flip to cook the other side
It is cooked when both sides are nicely browned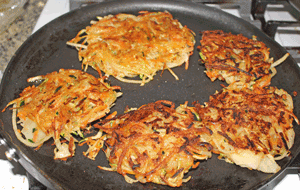 Latkes flipped to cook other side />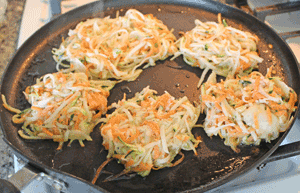 Latkes cooking on non-stick pan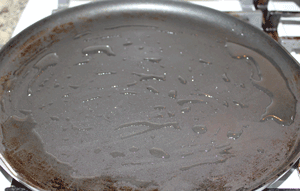 Amount of oik that was used initially. Tops were then coated to cook other side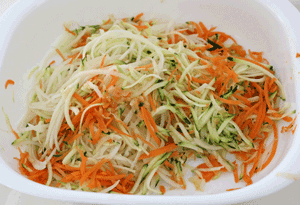 Latke ingredients grated in Food Processeor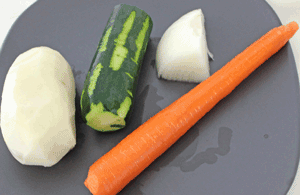 Main Ingredients for Vegetable Latke

Here is a link if you would like to know more about Latkes. For this recipe of Latke I have used zuchinni and carrots as well as potato.
In the first image, I used the back of a large spoon to make a depression on the Latke, which I then filled with some Tofu Scrambled Eggs. Use your imagination to serve Latkes. You may also make them smaller.
How to Reach Me
If you have any questions or would like to add a recipe of your own, email me, Nirmala, at


I will help in any way I can. The site will be regularly updated with tasty recipes and hints and tips. You can also reach me via the Contact Form.
Please note: If you use the contact form, be sure to include your email address. I can only respond to you if you do include your email address. Thank you.